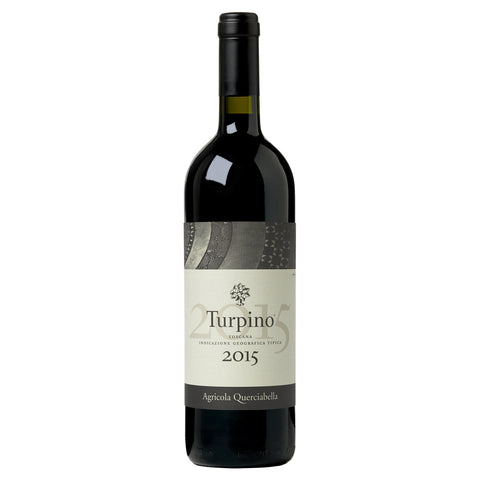 Querciabella Turpino Toscana Rosso 2015
The name Querciabella means "Beautiful Oaks" as the vineyards in Ruffoli and Radda are surrounded by wonderful oak trees. Querciabella's commitment to creating extraordinary wines, without causing harm or disrupting the delicate balance of nature, will not waiver. It is this commitment that makes their wines as lively and beautiful as their land, and it is how they will continue to innovate and to inspire for decades to come. But the real secret is in the soil, the very same from which grow the mightiest of oaks.
The name Turpino like Palafreno and Mongrana, which precede this wine in the Querciabella range pays homage to Orlando Furioso, a 16th century Italian epic poem by Ludovico Ariosto. This Super Tuscan is a voluptuous blend of Cabernet Franc, Syrah and Merlot.

Tasting Notes
Intense ruby red with purple hues. Ripe on the nose, sweet aromas of cherries and berries and elegant notes of violets and rose petals meld into spices, white pepper and cedarwood as this juicy, expressive wine opens up in the glass.
On the palate, the wine is perfectly balanced with very finely-textured tannins and good acidity. The flavors stay persistent and long, pleasantly tightening up on the finish.
Food Pairing
Turpino is rich in savory notes which call for a dish with lots of savory, umami flavors. The Cabernet Franc, which comprises 40% of Turpino, is very vegetable-friendly. As it ages, it takes on vegetal qualities similar to eggplant and peppers, especially. Its Syrah component provides good fruit but also earthiness which allows you to go in many directions when deciding what dishes to pair. We recommend trying a Creamy Baked Cumin-Spiced Pumpkin Mac n' Cheese or Lentil and Pinto Bean Hamburger with Grilled Eggplant and Roasted Red Bell Peppers.
Awards
92/100 James Suckling
Country: Tuscany - Italy