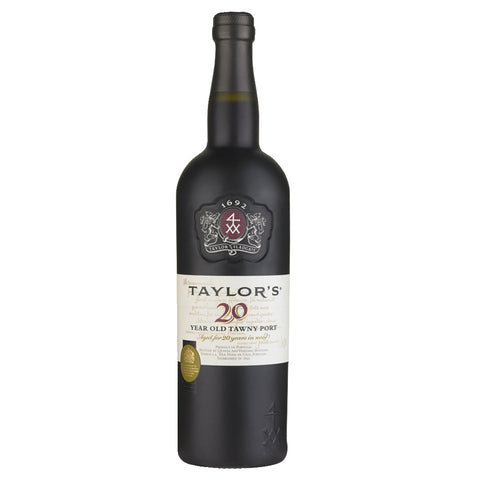 Taylor's 20 Year Tawny Port
Taylor's is one of the eldest founding Port houses. It is dedicated entirely to the production of Port wine and in particular to its finest styles. So, what is Port wine? Port is a fortified wine. Fortified wines are made by adding a proportion of grape spirit, or brandy, to the wine at some point during the production processes. Port is arguably the greatest of all fortified wines and its paramount expression, Vintage Port, ranks alongside the finest produce of Bordeaux or Burgundy as one of the great iconic wines of the world. In the case of Port, the addition of the brandy takes place before the wine has finished fermenting. This means that the wine retains some of the natural sweetness of the grape, making it rich, round and smooth on the palate.
Tasting Notes
Opulent and voluptuous nose of complex spicy, jammy and nutty aromas, hints of orange flower and a fine oakiness. The palate is full of very rich and concentrated flavor and has a long mellow finish.
Food Pairing
An excellent accompaniment to many desserts, crème brûlée, honey and almond cake and cheeses such as Parmesan and Manchego, It may also be appreciated on its own
Country: Portugal