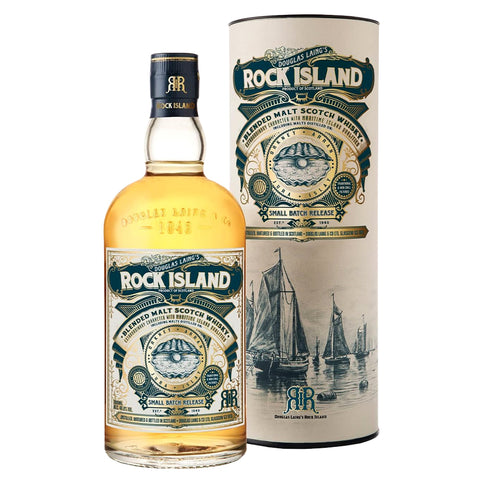 Rock Island Blended Malt Scotch Whisky
Douglas Laing's Rock Island bottles the epitome of the Scottish Islands. The blend marries a plethora of Island whiskies, with malts from Islay, Arran, Orkney and Jura. The whisky has been bottled at a rather specific 46.8% ABV, and of course without colouring or chill filtration. If you think this sounds all a bit familiar, the blend was previously dubbed Rock Oyster, though the name was changed because it turns out there's an awful lot of people who don't like oysters. Not to worry, it's the exact same great maritime whisky!
Tasting Notes
Wind-swept beaches, coastal peat and a hint of ash, complimented by touches of green fruit. Yet more sea breeze, with oat cake crumbs, growing spicy notes of cracked black pepper and a deft whiff of peat smoke on the palate. Hints of vanilla here and there. Salinity lasts on the finish along with peppery warmth.
Country: Island - Scotland
ABV: 46.8%