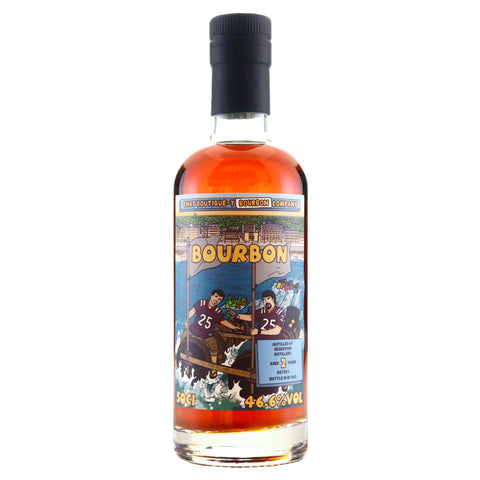 Reservoir Distillery 2 Year American Bourbon
Independently bottled 2 year old bourbon produced by the Reservoir distillery in Virginia, USA, independently bottled by That Boutique-y Bourbon Company. This is made with a combination of Corn, Wheat and Rye, each of which you can taste individually and as an ensemble - very cool indeed!
Batch 1 is a release of 963 bottles.
'That Boutique-y Whisky Company' bottles single malts, single grains and bourbons from a variety of renowned distilleries as well as producing award-winning blended malts and blends. These whiskies are adorned with cultish graphic novel-style labels.


Tasting Notes
Nose: Very pleasant notes of fluffy pancakes covered in maple syrup and chocolate ice-cream rise through peppered steak and oak char aromas. Sour red berries and sawdust reveal as the nose progresses.
Palate: Toffee sauce and vanilla buttercream lead in a rich, creamy palate before raspberry and clove add depth.
Finish: Vegetal smoke lingers among heaps of Galaxy milk chocolate.

Country: USA

ABV: 46.6%