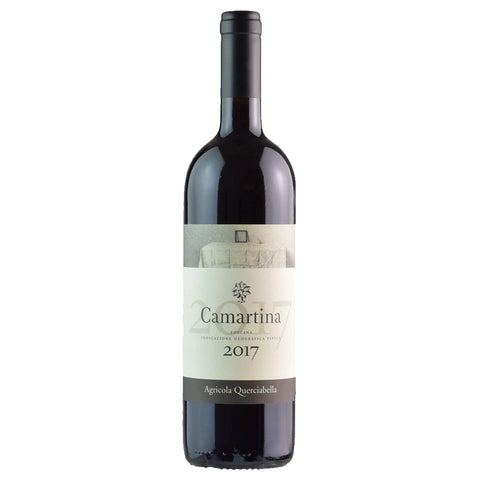 Querciabella Camartina Toscana Rosso 2017
Giuseppe (Pepito) Castiglioni, an industrial entrepreneur and lifelong wine lover bought a single hectare of a vineyard on a Tuscan hillside and set about creating an estate that now spans the breadth of the region. The name Querciabella means "Beautiful Oaks" as the vineyards in Ruffoli and Radda are surrounded by wonderful oak trees. Querciabella's commitment to creating extraordinary wines, without causing harm or disrupting the delicate balance of nature, will not waiver. It is this commitment that makes their wines as lively and beautiful as their land, and it is how they will continue to innovate and to inspire for decades to come.
Camartina is a result of combining two words of great significance to the winery. Casaocci, the name of the first office on the first hectare of the vineyard, and Martina – Sebastiano's sister. The label, designed by Sebastian Cossia Castiglioni, features an exclusive drawing by Italian painter Bernardino Luino.
Tasting Notes
This is very dense and structured, but it has very energetic and intense tannins that provide energy and focus. It's medium-to full-bodied with so much currant, slate, dried-mushroom and bark character. Flavourful finish. Try after 2023, but already exciting.
Food Pairing
Querciabella original Super Tuscan demands a dish with substantial weight. While serious and structured, there is a finesse to Camartina that brings out an enormous array of nuanced flavours, spices and textures in dishes. There's a variety of dishes you can play around with. We like Camartina with a side of Moroccan Roasted Vegetable Tagine with Chickpeas and Mint Pistachio Pesto or some sophisticated taste like Oyster and Trumpet Mushroom Coq au Vin with Roasted and Root Vegetables over Thyme-Scented Polenta.
Awards
95/100 James Suckling
95/100 Antonio Galloni · Vinous
Grape Variety: Cabernet Sauvignon, Sangiovese
Country: Tuscany - Italy