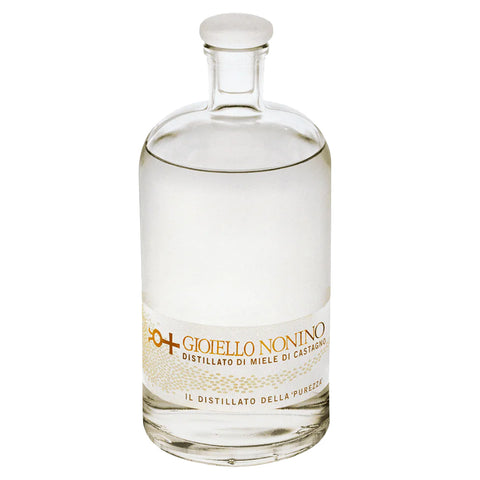 Nonino Giolello Chestnut Honey Distillate
The art of distillation has been a Nonino Family privilege since 1897. Quality, innovation, research, professionalism and love for their work are their distinctive mark. Nonino distillates in fabulous cocktails and aperitifs for the happiness of the palate and the spirit. Suggested by international mixologists everywhere in the world. Nonino cocktails and Aperitifs: to be tasted in company to celebrate an anniversary, to relax after an intense working day or before flinging into a love declaration, while listening to your favorite music or as the perfect beginning of a romantic evening!
Tasting Notes
The distillate obtained by distilling pure honey of all flavour types, from acacia blossom to strawberry tree honey, from chestnut to sunflower honey, from dandelion to citrus tree honey each with its delicate, intoxicating and winning character, the perfect embodiment of the word 'purity'. The Honey Distillate, Gioiello, is transparent, crystal clear, dry or soft or aromatic, according to the honey being used
Food Pairing
To be savored at any time of day it is beautifully intoxicating, the true source of pleasure. It goes particularly well with those cheeses which have great personalities, with foie gras, with dry desserts and with all desserts based on honey or ice-cream. To enhance its perfume, it can be added to sauces to accompany game, white meats and fish.