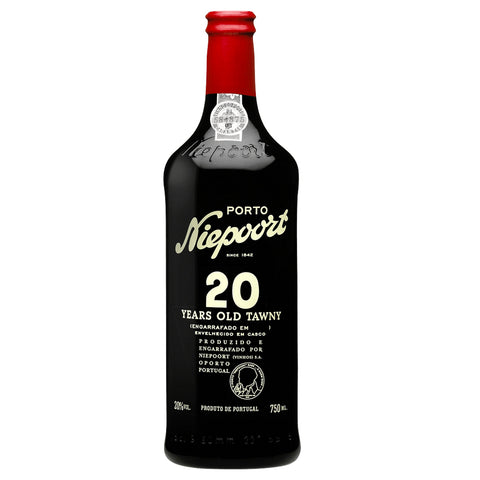 Niepoort Tawny Port 20Y
Tawnies aged 20 years are a blend of different wines aged for an average of twenty years. The extensive maturation in tiny wooden casks imparts the tawny color. The main features of an aged Tawny are smell complexity, freshness, a lasting perfume, and refinement. The Tawnies are aged for many years in small old wood casks (550l) in the cellars of Vila Nova de Gaia. With José Nogueira's expert blending skills the result is a well-balanced union of many qualities and eras.

Tasting Notes
The color is brick red/brown with orange undertones and superb depth. Fantastic smells of crystalized fruit and dried apricots on the palate, with a smooth, well-integrated nutty alcoholic character on the finish.
Food Pairing
After dinner, aged Tawny pairs well with cheeses and, in particular, chocolate-based sweets. It can also be served at room temperature or mildly chilled as an aperitif.
Grape Variety: Touriga Nacional, Touriga Franca, Tinto Cão, Tinta Francisca, Tinta Amarela, Sousão, Tinta Roriz and others
Country: Portugal - Douro