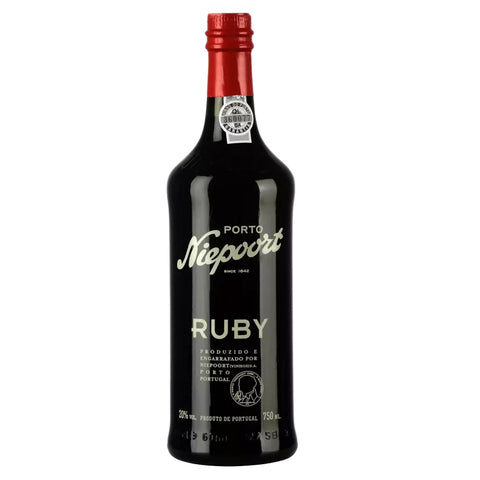 Niepoort Ruby Port
Niepoort Ruby has a mouthwatering, fruity flavor. A charming Port with tons of character. Ruby keeps well for a number of years, but it won't get better with age. Decanting is not necessary because the wine contains no sediment. Old, low-yielding grapes are used to make the wine in the Cima Corgo region of the Douro Valley. The grapes are mostly trodden at Lagares before being stored in sizable oak vats at our lodges in Vila Nova de Gaia and bottled with an average age of three years.

Tasting Notes
Excellent "drinkability" is offered by a young wine with good extract and perfect balance, a mineral flavor, a deep red color, and a fresh, vibrant fragrance of black fruits.
Food Pairing
Ready to be drunk right now after a meal with a chocolate and/or caramel based dessert, by itself or with soft cheeses.
Grape Variety: Touriga Nacional, Touriga Franca, Tinto Cão, Tinta Francisca, Tinta Amarela, Sousão, Tinta Roriz and others
Country: Portugal - Douro