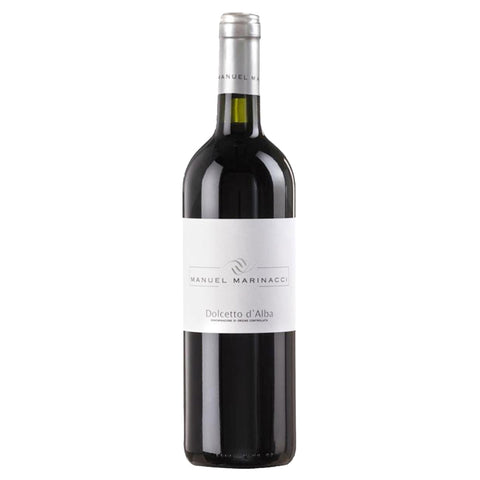 Marinacci Dolcetto d'Alba 2019
Manuel's a young wine producer whose biggest claim to fame to date is as a class-mate of Giuseppe Mascarello at Alba's viticultural school Umberto 1, which he left in the mid 1990s. Upon graduation Manuel worked abroad and locally for both large and small cantine/wineries before taking on the lease of the San Rocco Seno d'Elvio vineyard in 2002. Vintage 2004 was his first release. Manuel makes three wines: Dolcetto d'Alba, Barbera d'Alba and Barbaresco. Refreshingly Manuel immediately adopted the traditional approach to winemaking; Giuseppe's influence perhaps rubbing off on him.
A gorgeous violet tinted and scented, graphite & blackberry coulis, rich but refreshing, reminding us that this area is famed for Dolcetto! The wine is fermented in stainless steel and then bottled. Classic, balanced vintage. These are Manuel's oldest vines planted in 1968.
Tasting Notes
Very fresh, lovely violet perfumed nose, succulent juicy blueberry. The nose is broad, inviting, with lush blueberry, pepper poise, stuffing, vibrant old vine fruit, with scented violet freshness too…not clarified nor filtered, Manuel's left all the goodness in the wine.
Food Pairing
Dolcetto's light tannins make it especially congenial with salumi, sausages, pastas with mushrooms or meat sauces and pizzas. You can also try it with burgers, ribs and roast chicken!
Grape Variety: Dolcetto

Country: Piedmont - Italy