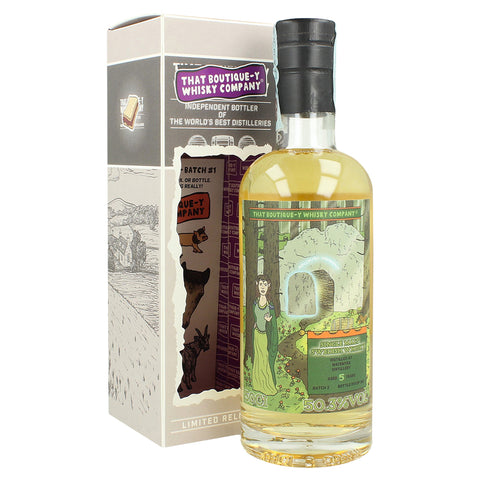 Mackmyra 5 Year Swedish Single Malt Whisky TBWC
57.600 JD
72 JD
you save 14.400 JD
Regard, intrepid explorer, you have come across the second batch of Swedish single malt from the Mackmyra Distillery independently bottled by That Boutique-y Whisky Company! It's a 5 year old expression, and the label once again gives us just the slightest of glimpses into Mackmyra's cask warehouse, surrounded by a grove of cloudberries. If only we knew elvish, we might be able to say the secret password... "Talk, buddy, and get in here", or something like that...
'That Boutique-y Whisky Company' bottles single malts, single grains and bourbons from a variety of renowned distilleries as well as producing award-winning blended malts and blends. These whiskies are adorned with cultish graphic novel-style labels.

Tasting Notes
Nose: Caramelised nuts, soft sawdust, lemon meringue.
Palate: Zesty raspberry and ripe cherry, balanced by waves of creamy vanilla and a little buttered corn.
Finish: Popcorn, peppercorn and some lingering juicy summer berries.

Country: Sweden

ABV: 50.3%