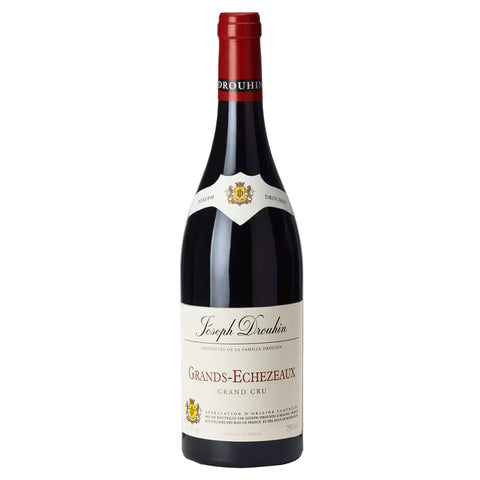 Joseph Drouhin Grands Echezeaux Grand Cru 2017
One of the world's most famous vineyards, Grands Echazeaux is a Grand Cru located above Clos Vougeot, with only a wall separating these two famous vineyards.

The name comes from "cheza" (plural "chezeaux"): a hamlet. The monks of Cîteaux, who already owned Clos Vougeot, coveted the Musigny vineyard but were never able to acquire it. They put all their hopes instead on Grands-Echezaux, which has now become one of the most coveted plots of land in the world.
Tasting Notes
In its youth, the wine displays aromas of great finesse, reminiscent of cherry and dark chocolate or cocoa bean, which is a delicate and sought after characteristic of this wine. As the wine matures, these aromas evolve towards other refined nuances evoking undergrowth, truffle, fine leather and sometimes light notes of cigar or cedar wood. The result is of great elegance and breed. The tannins are refined and the silk and velvet of the body are a perfect match. Very long aftertaste in which some of the aromas previously encountered are again in evidence and create the most elegant sensation.
Food Pairing
A carefully prepared cuisine would enhance Echezeaux superbly. Also, pair with slowly cooked stews, duck or pheasant, and ripe cheeses.
Grape Variety: Pinot Noir
Country: Burgundy - France