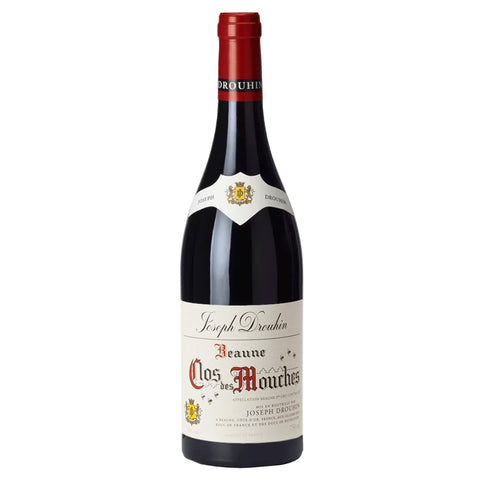 Joseph Drouhin Beaune Clos des Mouches Premier Cru 2017
Domaine Joseph Drouhin is one of the oldest, most respected wine producers in the Burgundy region, established in Beaune by the enterprising Joseph Drouhin in 1880. Clos des Mouches is at the southern end of the Beaune appellation, next to Pommard.

The name "mouches" means flies. There were once bee-hives in this sun-drenched "clos" (vineyard enclosure); the bees in the local dialect were called "mouches à miel" (honey flies), hence the name Clos des Mouches. It is one of the first vineyards acquired by Maurice Drouhin (the founder's son) in the 1920's. With great determination, he bought 41 different parcels from 8 proprietors. It is planted equally in red and white grapes and both wines have achieved mythical status for the House of Joseph Drouhin.
Tasting Notes
An exceptional wine. Beautiful, deep-red ruby colour, with the bright sheen of great Burgundies. Intense and fresh nose for the young wines. Primary notes of red fruit dominate, such as Morello cherry ("griotte", or wild cherry), raspberry, blackberry. There are hints of complexity with smoky flavours evolving towards liquorice. When the wine is maturing, aromas of pepper and tobacco. The body is firm without being rough, well meshed without being heavy. There is great freshness in the younger wines. With age, the wine gets rounder. The finish offers a sensation of harmony, fullness and delicate tannins, as the wine lingers on the palate.
Food Pairing
Enjoy with filet mignon, duck and ripe cheeses.
Grape Variety: Pinot Noir
Country: Burgundy - France