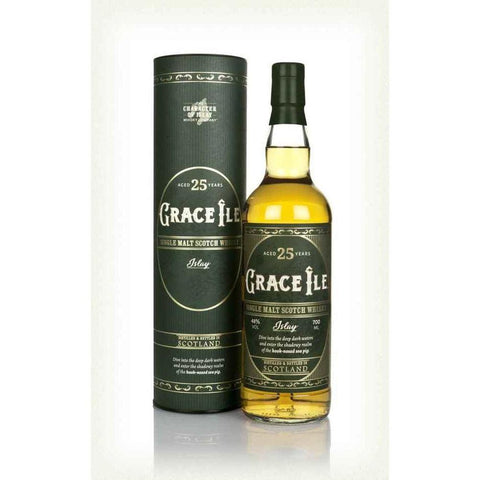 Grace Île 25 Year Single Malt Scotch Whisky (The Character of Islay)
Grace Île from The Character of Islay Whisky Company is a 25 year old single malt Scotch whisky distilled on Islay - though the distillery responsible for this stunning expression remains a mystery. Its quarter-century of maturation has allowed the whisky's flavour profile ample time to develop, to grow deeper and richer, but never losing its vibrancy, nor its coastal complexities.
The name also holds a secret... Say "Grace Île" out loud, and you might find yourself saying a name of a cheeky creature often seen poking its head out of the water on the shores of Islay. Go on, try it. If someone hears you, just pretend like you were checking their secret agent codename and tell them "The Hungry Mouse is in the cutlery drawer", then walk away briskly.

Tasting Notes
Nose: Sea spray, malty maturity, hints of rubber with smouldering ash. Slight shellfish sweetness among wild heather and oily oak. Browning apples, nectarines and lemon vanilla, butterscotch, crisp bacon and jasmine tea.
Palate: Over a note of firewood there's chewy vanilla toffees, apricot jam, juicy wood spices and a little dried barley. Elements of sour citrus and maritime salinity percolate among these flavors, while smoked almonds and grass clippings reside pleasantly underneath.

Country: Islay - Scotland

ABV: 48%