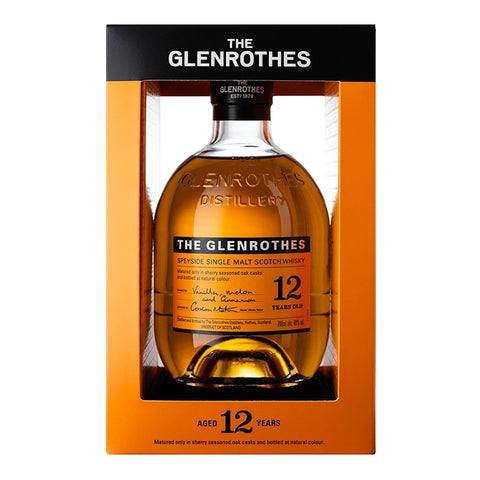 Glenrothes 12 Year Single Malt Scotch Whisky
12 year old single malt from the Glenrothes distillery, released as part of the Soleo Collection. This range takes its name from the process of sun-drying grapes in Jerez for sherry production, so it shouldn't come as a surprise that sherried deliciousness is a focus here. Also noteworthy is the lack of vintage on the label, with Glenrothes decides to eschew them in favour of age statements for the majority of the series.

Tasting Notes
Nose: Gingerbread, stewed apple and earthy vanilla, then soft tropical fruit notes and a hint of sherried funk.
Palate: Creamy hazelnut, dried fruit and a hint of cinnamon. Hints of chocolate, old leather, dried herbs and tobacco add depth among Galia melon and honeyed oak.
Finish: Long and sweet with a touch of baking spice and more stewed fruits.
Overall: A perfect introduction to all things that make Glenrothes fantastic.
Country: Speyside - Scotland
ABV: 40%