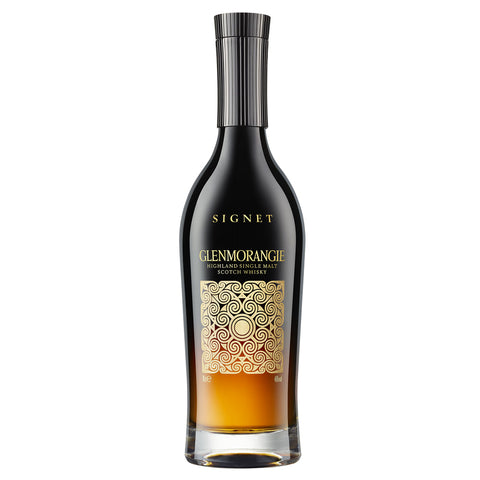 Glenmorangie Signet Single Malt Whisky
This superb Glenmorangie was created with a marriage of whiskies produced from two unique types of malted barley: a single estate Cadboll variety and malted chocolate barley, which is better known as a basis for craft beers.
The Signet was distilled twice through Glenmorangie's copper-pot stills, by a team of 16 distillers known as the 'Sixteen Men of Tain'. It was subsequently matured in bespoke American virgin oak casks before it was bottled at 46%, and received no chill-filtration.
While it carries no-age-statement, there is said to be an element of some of the distillery's oldest and rarest stocks, ranging from 35 to 40 years old, in this Highland single malt.
Beautifully packaged and stunningly arranged, the Glenmorangie Signet is an outstanding whisky of unprecedented style and taste. Dr. Bill Lumsden, Glenmorangie's Master of Whisky Creation, described it as the culmination of a "lifetime of experimentation and innovation".
The hard work paid off, as the Signet won Whisky of the Year in the same year as Lumsden was named Master Distiller of the Year at the 2016 International Whisky Competition.
This edition takes it name from the ornate square design that adorns most Glenmorangie bottles. The signet itself originated from the Hilton of Cadboll Stone, a Pictish artefact that dates back to around the year 800 AD.
Tasting Notes
Nose: The nose begins with chocolate raisins and sugared mixed peels. Toasted spices, bread and butter pudding and golden syrup complement these aromas, while a note of Angostura bitters lingers beneath.
Palate: Sweet, syrupy cinnamon and drying malt lead, before a suggestion of Terry's Chocolate Orange rises. A hint of lime rind is present, as are lychees and dates. The backdrop is filled with tobacco leaves and freshly roasted espresso beans, with a little honey-roasted cashew.
Finish: The finish dries and becomes pleasantly rubbery, as a touch of truffle oil emerges.
Overall: Utterly superb.

Country: Highland - Scotland
ABV: 46%