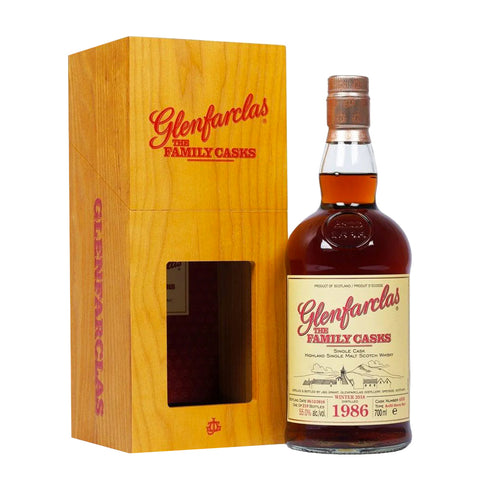 Glenfarclas 1986 Single Malt Scotch Whisky
Glenfarclas's 'Family Casks' series represents some of the finest aged whisky available. Each entry into the series has a unique story and profile. This bottle comes from cask 4335. It was laid down in 1986, and came out thirty-two years later, presented in the iconic wooden display case.
Tasting Notes
Tawny in colour. The nose offers a rich and flawless old-style sherry profile with fine sweet oloroso winey, barley sugary and spicy wooden aromas and an interesting leathery note. The taste is layered and of the finest old-stylish sherry profile (before the paxarette was banned in 1989). The initial mouthfeel is very pleasant with an instantly creamy coating of both tongue and mouth without any distracting moments. The finish is very, very long an sticks to the palate for a while, with milk and dark chocolatey flavours.
Country: Highland - Scotland
ABV: 55%