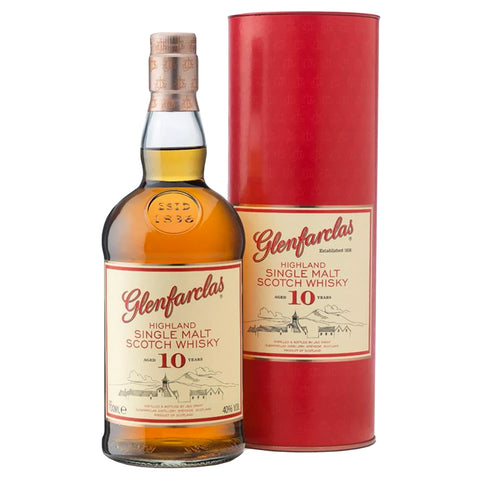 Glenfarclas 10 Year Single Malt Scotch Whisky
Glenfarclas 10yo is a straw-gold , delicately light, sweet and malty dram leaving a long slightly spicy finish. Always impeccably well-made, this is a whisky that always delivers in quality. The producers recommend this as an aperitif whisky. It certainly offers more complexity than you'd expect from a 10 year old dram. A lovely, delicate whisky from Glenfarclas.
Tasting Notes
Nose: Tempting Sherry-sweet malty tones combine with delicate aromas, releasing subtle spices. Warming the glass reveals honey, vanilla and pear drops.
Palate: Delicately light, with a mouth-watering combination of maltiness, sherry sweetness. Hints of dried fruit, vanilla, cinnamon and cloves tempt the taste buds further.
Finish: Long, smooth and spicy.
ABV: 40%
Country: highland, Scotland