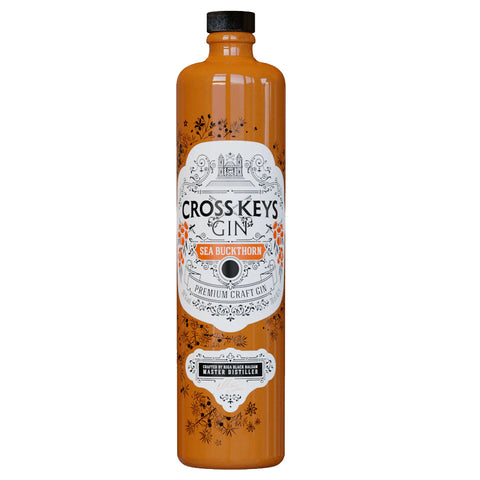 Cross Keys Gin Sea Buckthorn Premium Craft Gin
1000 miles north of Berlin, between flourishing Lithuanian marshes and stony Estonian islands, lies the crown jewel of the eastern Baltic coast - Riga, the capital of Latvia.
This city has bred all kinds of rebels since time immemorial: It was the cradle of the Reformation, hub of revolutionaries and homestead of anarchists.
Riga's history has also inspired unique and rebellious drinks.

The first was the famous Herbal Bitter Riga Black Balsam - an alchemical experiment from 1752 with a still secret recipe, and the latest is Cross Keys Gin.
The gin was made by the same master distiller who now blends Balsam, and takes its name from 'crossed keys' - an ancient symbol of city hospitality and part of Riga's heraldry.

Botanicals: rosemary, juniper, chamomile, lime blossom, refined with sea buckthorn.
Tasting notes:
Colour: Orange.
Nose: Fresh, sweetish, juniper, sea buckthorn.
Taste: Sweetish, a little sour, spicy, camomile, juniper.
Finish: Long lasting, complex, sour.

Best enjoyed with tonic water and a slice of orange.

ABV 38%