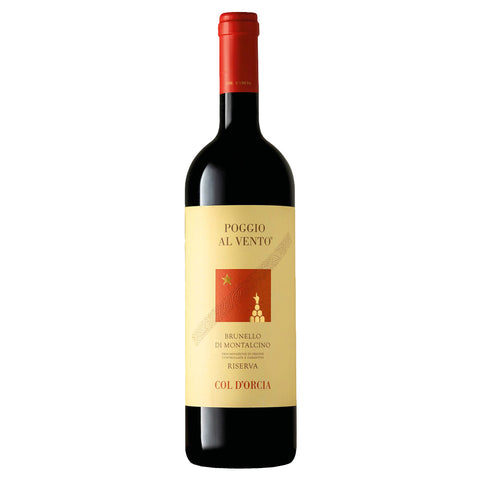 Col d'Orcia Brunello di Montalcino Poggio al Vento Riserva DOCG 2013
Col d'Orcia means the hill overlooking the Orcia River. The Orcia River marks the South West border of the Brunello di Montalcino territory and the name of the farm is intrinsically linked to the physical location were the vineyards are planted. It is the mission of Col d'Orcia to produce the best possible wines that the exceptional combination of soil and climate of this part of Montalcino can achieve. Since 2010 the whole estate is run following exclusively organic agricultural practices.
This award-winning wine is made in the heart of the estate, half way up the hill that overlooks the Orcia River, on a ridge gently sloping towards the South. The name literally means "windy hill" and this aspect in conjunction with the very unique soil composition of the area produce the exceptional Brunello di Montalcino Riserva Poggio al Vento. The powerful yet elegant tannins delivered in the wines by this vineyard require a 4 yearlong aging in the traditional large oak barrels. After bottling the wine requires a further aging of 3 years before being presented to the market. Brunello di Montalcino Riserva Poggio al Vento is produced only in the best vintages and represents one of the highest expressions of pure Sangiovese to be found in Montalcino.
Tasting Notes
A wine of great personality, intense and enveloping. The nose embodies the fruity aromas of the great Sangiovese. Red currant and raspberry blend together with the spicy notes originating from the long ageing in barrels. The tannins are soft, ripe and well combined with the acidity. The tense, structured palate also delivers dried cherry, cinnamon, crushed mint and licorice framed in firm fine-grained tannins.
Food Pairing
Cured meat, aged cheeses and your finest steak.
Grape Variety: Sangiovese

Country: Tuscany - Italy