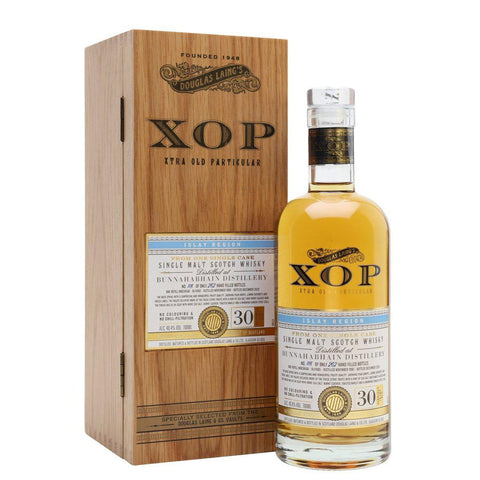 Bunnahabhain 30 Year 1990 Single Malt Scotch Whisky
A 1990 Bunnahabhain single malt from indie bottler Douglas Laing, matured in a single refill hogshead for three decades before being bottled in December 2020 as part of its Xtra Old Particular series. Aromas of pear drops, lemon sherbet and fresh limes fill the nose, complemented by notes of sea salt, burnt leather, honey-glazed ham, fresh lemons and warm ginger spice throughout the palate.
Tasting Notes
The nose opens with a surprising and wonderful fruity quality, showing pear drops, lemon sherbets and fresh limes. The palate delivers more of these citric fruits with a hint of sea salt and honey glazed ham. The finish has us in Islay with more sea salt, burnt leather, toasted barley and a warming ginger spice.
Country: Islay - Scotland
ABV: 40.4%