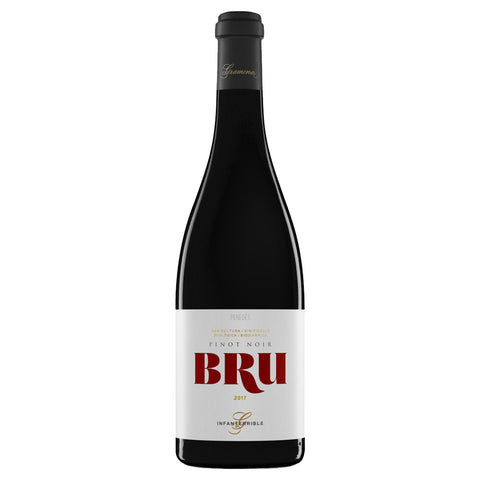 Gramona Bru Pinot Noir 2017
Gramona's history is long and storied, and the property has been a quality reference point in the zone for decades. As far back as 1816 a member of the family has been making wine in Penedes. Today, Gramona is one of the few remaining family-owned estates in the region, with many having been bought by large companies. Gramona is located in the Penedes region of Spain just 45 minutes from Barcelona along Spain's Mediterranean coast. The Climate in Penedes is mild and warm, benefiting mostly from a Mediterranean influence. However, as the differences in elevation are quite dramatic (with some vines at over 700 meters), there are many microclimates in the zone.
Bru de Gramona Pinot Noir comes from stony and limy soil suitable for wines of great aging. After devatting, the wine goes into 300 litre French Allier oak barrels (fine grain and medium toast) and undergoes a spontaneous malolactic fermentation. The wine remains on its fine lees until the first racking in spring. It will be aged for a total of 8 months in a 33% of new barrels before going into bottle, where it will spend at least one year rounding out before being released onto the market.
Tasting Notes
Medium intense garnet hue with raspberry tints. On the nose, intense and concentrated. Wild fruit blackberries and blackcurrants. A floral overtone (violets) melts into aromatic notes from the wine's ageing – vanilla, pepper, tobacco leaves and hints of chocolate. On the palate, medium-bodied, pronounced tannin. Retronasal aromas of dark fruit, spice and a touch of tapenade, complemented by a long-lingering and lively acidity on the finish.
Food Pairing
Red meat, feathered game, stews.
Grape Variety: Pinot Noir
Country: Penedes - Spain