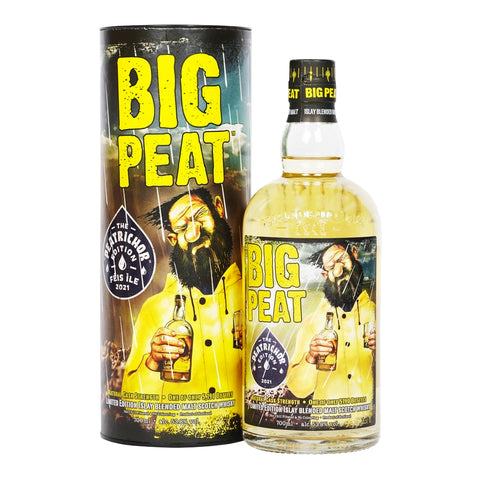 Big Peat Blended Malt Scotch Whisky, Peatrichor Edition
Big Peat is a marriage of Single Malt Scotch Whiskies only from the island of Islay. With Caol Ila spirit bringing sweetness, Bowmore the perfect balance, Ardbeg a medicinal, earthy quality and Port Ellen, a degree of elegance, Big Peat represents all that is Islay in a bottle. Part of the Remarkable Regional Malts range, the ultimate distillation of Scotland's Malt Whisky Regions. Big Peat's "Peatrichor" Limited Edition is our exciting 2021 summer release! Bottled at a natural cask strength of 53.8% alcohol, this latest bottling celebrates the Islay rainfall – after all, today's rain is tomorrow's Whisky! There are just over 5,000 bottles of this special commemorative bottling are available globally.
Tasting Notes
Anticipate notes of damp soil, salty sea air and fresh leather on the nose. The palate delivers rich, earthy peat smoke. Runs to a satisfyingly long, classically "Islay" finish.
Country: Islay - Scotland
ABV: 53.8%