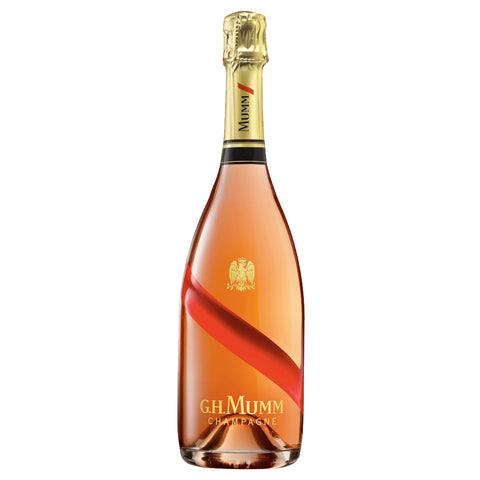 Mumm Grand Cordon Rosé Champagne
Mumm Cordon Rosé is an independent spirit. This brut rosé champagne challenges convention, a refreshing antidote to the floral and sweet fruit flavors of traditional rosé champagne. Chardonnay grapes for elegance and minerality
Pinot Meunier grapes for roundness and balance. Up to 14% distinctive and bold red Pinot Noir wines, sourced from some of Champagne's most prestigious villages. Around two years of ageing in the cellars. Minimal dosage of 6 grams per liter.
Tasting Notes
This Rosé has Intense fruit aromas - fresh strawberries, cherries and red currants - with a swirling undercurrent of vanilla and caramel. Lively, energetic and perfectly dry in the attack, revealing hints of summer fruits
yet with an unexpected arrow of precision running right through to the long savory finish.
Food Pairing
Reject tradition by experimenting with food matches involving seafood, charcuterie or even spicy Asian or Moroccan tagine dishes.
Country: Champagne - France.