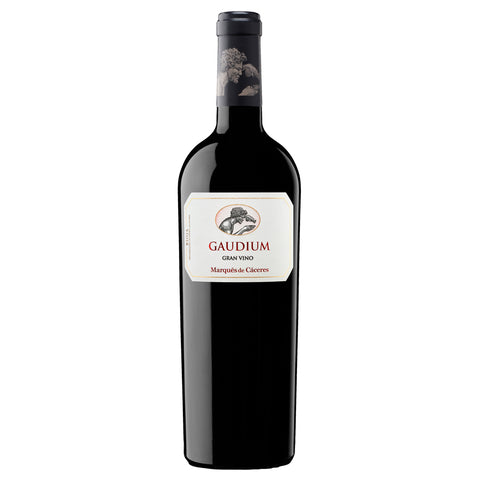 Marqués de Cáceres Gaudium 2016
Exceptional red wine produced exclusively in excellent vintages from very old vineyards. These small parcels of old vineyards are aged 70 years plus, including some pre-phylloxera vineyards which are over 100 years producing delicious elegance. The grapes fall under gravity into small tanks where the winemaking process is performed with expertise. The greatest care is taken during vilification to extract the singular character of each vineyard, after which this wine is aged in new French oak barrels for 18 months. The ageing proses is completed with 24 months minimum in bottle during which Gaudium acquires its elegant style. An exquisite wine!
Tasting Notes
Gaudium is undoubtedly Marques de Caceres premium wine. Made from Tempranillo grapes with a small percentage of Graciano, delicious and fleshy in the mouth of balsamic notes, black cherries and exquisite toasted sensations with a powerful, balanced structure and pleasant tannins that reveal a superb fullness. A Rioja of the highest quality and character that captivates the senses and comes through lively on tasting.
Food Pairing
Your best steak dinner!

Grape Variety: Tempranillo

Country: Rioja - Spain