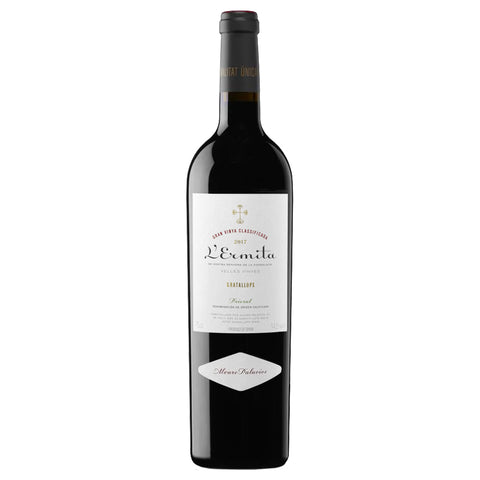 Palacios L'Ermita 2017
Priorat's most famous wine, and one of Spain's greatest and most coveted. The wine exudes emotion and class from the legendary Alvaro Palacios. The grapes come from a shaded amphitheatre at the feet of Nuestra Señora de la Consolación shrine, in the heart of historic Priorat. A harmonious, intimate and grandiose landscape. Its steep, northeast-facing slopes accommodate 1.45 hectares planted in 1939 to the region's top variety: Garnacha. Vines emerge from cold, beautiful green slate soils.

Named the 2015 "Man of the Year" by Decanter Magazine, Alvaro Palacios is an important figure in the wine industry. This prestigious title is awarded to people who have made an exceptional contribution to the universe of wine.
The son of the owners of Rioja's Palacios Remondo, Alvaro Palacios spent his early 20s working and studying winemaking outside of Spain. His experience abroad - particularly in Bordeaux - instilled in him a deep passion for great wines and led him to return to Spain. With the ambition to make wines that could be world-class. To achieve this dream, Palacios was drawn to the historic hillsides of slate soil and its traditional grape varieties of Garnacha and Carinena. Now widely considered to be among the more important new Spanish wineries in a generation, Alvaro Palacios embodies the spirit of "The New Spain."
Tasting Notes
Magic minerality with inscrutable red fruit strength. Tended with the utmost care and perfumed by the soft breeze, the vines produce a cold wine, which is full of mystery and enigmatic exclusivity and beauty. A true classic!
Food Pairing
This is a meditation wine, to be revered not paired!
Grape Variety: Grenache, Carignan

Country: Priorat - Spain